Mario Samaniego, DDS
Dr. Mario Samaniego is originally from El Paso, Texas, but at a young age migrated to California, where he attended high school and dental school at Loma Linda University. After dental school, he joined the USAF for specialized training in every area of dentistry.
In 1984, Dr. Samaniego started his practices in Las Cruces and Alamogordo, New Mexico. Growth in both practices occurred so quickly that he had to bring in other doctors to assist with the patient load. Continuing education has been one of his top priorities, and being in general dentistry requires keeping up with the latest developments. Dr. Samaniego has been able to help many patients with TMJ problems, orthodontics, complete reconstructions and cosmetic dentistry. Dr. Samaniego is one of 240 dentists in the world that practices the Bio Esthetic Dentistry Technique when treating his patients. This technique combines stable TMJs in the alignment with the patient's bite to create long-lasting, beautiful smiles. In 2008, Dr. Mario Samaniego was selected by Consumers Research Council of America as one of America's top dentists. He is among a select few that have earned this prestigious recognition. He has also been named as the Favorite Dentist in Las Cruces by Las Cruces Sun News readers.
Dr. Samaniego is very concerned about education for our youth and for years has been involved in raising funds for scholarships. Several years ago, he founded a program that provides scholarships for senior students going to college. So far, about 100 scholarships have been given to students.
His hobbies include dentistry, cycling, old cars, gardening and traveling.
Jaime R. Gonzalez, DDS, MS
Dr. Jaime R. Gonzalez graduated from Loma Linda University Dental School in 1996 with a DDS degree. After graduation, he immediately moved to Alamogordo and has practiced dentistry in both Alamogordo and Las Cruces ever since. Ever since graduating dental school, Dr. Gonzalez has made sure to get more than the 60 units that are required every three years in order to renew his dental license. He is a member of the following organizations:
Academy of General Dentistry (AGD)
American Academy of Dental Sleep Medicine (AADSM)
American Academy of Orofacial pain (AAOP)
Dr. Gonzalez recently completed a three-year, online Masters of Science in Orofacial Pain and Oral Medicine program from the Herman Ostrow School of Dentistry of University of Southern California. Dr. Gonzalez married his wife, Eliva, in 2007. They are blessed with two boys, Jaime, born in 2009, and Christian, born in 2012.
David Samaniego, DDS (1962-2017)
Dr. David E. Samaniego attended and graduated from Loma Linda University in 1996. From 1993 to 1996 he attended several mission trips as part of his education in dentistry, each a minimum of six weeks long. In these trips, he volunteered dental work in association with Doctors Without Borders and ADDRA. The mission trips covered several areas of Mexico, including Baja California and Chiapas.
In 1995, he undertook a three-month medical journey to South America in the Amazon jungles of Brazil.
In 1996, Dr. David Samaniego joined his brother, Dr. Mario Samaniego, at Las Cruces Dental Associates.
We are left with precious memories after the loss of Dr. David, in 2017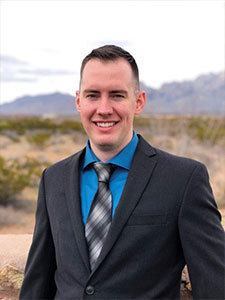 David W. Russel, DMD
Dr. David Russell was born and raised in Las Cruces, NM. He met his wife, Rebecca, at Mesilla Valley Christian Schools, and they later attended New Mexico State University together. After receiving a Bachelor of Science degree in Biochemistry at NMSU with a minor in Spanish, Dr. Russell obtained his Doctor of Dental Medicine degree at Midwestern University College of Dental Medicine in Glendale, Arizona.
When not working, he can usually be found enjoying the great outdoors while bowhunting, fishing and mountain biking. He is excited to be home in the great state of New Mexico and to provide compassionate, comprehensive dental care.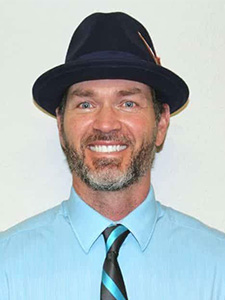 Logan Behrmann, DMD
Dr. Logan Behrmann has been a part of the Alamogordo community since 2006. He graduated from BYU-Hawaii with a Bachelor of Science in biology and earned his dental degree from the Oregon Health and Sciences University in Portland in 2005. He went on to complete his advanced education in General Dentistry at Wright-Patterson Medical Center in Dayton, Ohio. He received the Meritorious Service Medal for his work as the Clinical Element Chief, Code Blue Monitor and Triage Officer while serving in the United States Air Force at Holloman Air Force Base. He attends continuing education courses every year, and is a graduate of the Schuster Center for Professional Development. He has served a PCC Dental implant Surgery Residency and has graduated from the WhiteCap Institute for Dental Implants. He is a member of the American Dental Association.
Dr. Behrmann believes that great health starts with a beautiful smile! His goal as a dentist is to provide dental work that will last for a long time; that looks natural, feels comfortable during and after the treatment and functions optimally.
When he is not taking care of patients, Dr. Behrmann enjoys Spartan Races, as well as horseback archery and traditional archery. He also likes to spend time backpacking, canyoneering, climbing and traveling.
---
Meet Our Team
Our friendly team at Alamogordo Dental Group is dedicated to helping each patient we meet enjoy improved oral health and a beautiful smile. We love working with our patients to provide individualized care, and take the time to thoroughly understand your oral health needs in order to provide you with the treatments you need. Give us a call at 575-437-7473 to learn more and to schedule your consultation with one of our caring dentists in Alamogordo, New Mexico! We are excited to help you care for your smile!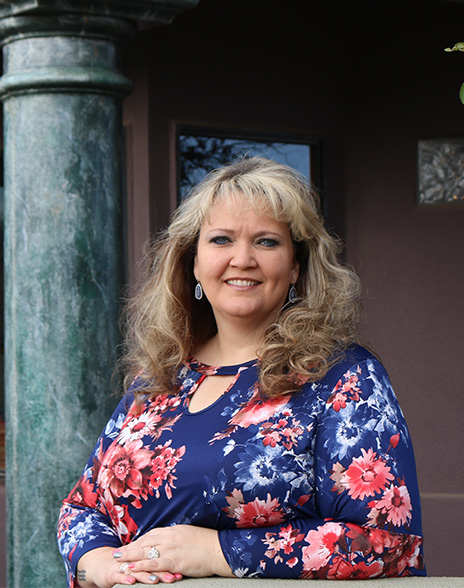 Poco
General Manager
Poco was adopted and relocated to New Mexico shortly after being born in Texas, where she was raised in Lincoln County. She relocated to Alamogordo in 1991 after she married her husband, Cory. She has been blessed with a handsome and successful son, plus two succesful beautiful daughters. Poco enjoys spending time with her family and her Golden Retriever, Journey (aka Golden Child). After several years in real estate, she entered the medical/dental field where she strives to and develops trusting relationships with our patients. Working in the dental field has offered many opportunities for Poco, leading her to the position at Alamogordo Dental Group as the General Manger. Away from the office, she enjoys nothing more than spending time with her kids and family, hunting, camping, traveling and having fun. Poco is efficient and commited to providing the best service possible to our wonderful patients.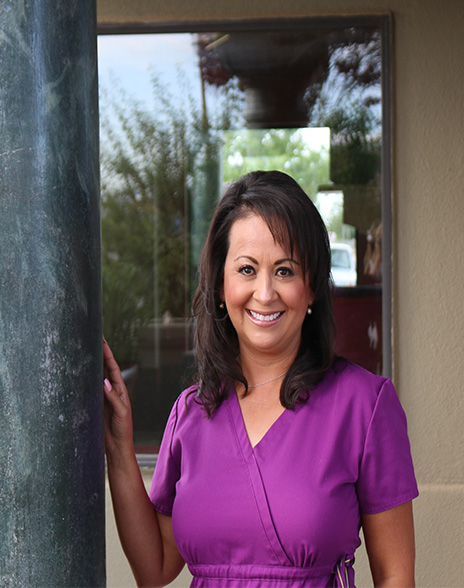 Lisa
Dental Hygienist
Lisa is proud to announce that she has been with Alamogordo Dental Group since 1991. She graduated from El Paso Community College in 1991 with her RDH license and graduated from Phoenix College with her anesthesia license in 1992. What she enjoys most about our practice is the energetic and friendly staff, the wonderful dentists, and the caring and loyal patients. Lisa contributes to the success of our practice by educating our patients in achieving their optimal oral health. It is very gratifying for her to give care to patients in a calm and caring atmosphere, where their comfort and well-being are the main concern. Lisa has been happily married for 18 years and is the proud mother of one lovely son who brightens her every day. In her free time, she enjoys listening to music, traveling and spending time with her family and friends.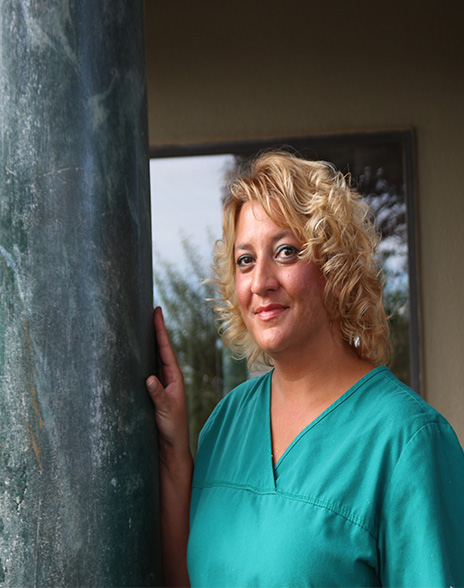 Janet
Dental Hygienist
After serving a little over nine years in the US Navy as an Aviation Electronics Technician, Janet decided to come back to her home town of Alamogordo. She graduated with honors from Doña Ana Community College's dental hygiene program in 2014. Her number one priority is patient care, as well as providing the best and most up-to-date dental practices. She has worked at Alamogordo Dental Group for over two years. The friendly staff as well as the excellent doctors are what she enjoys most about working at our practice. Janet looks forward to meeting new patients seeking caring and professional dental service.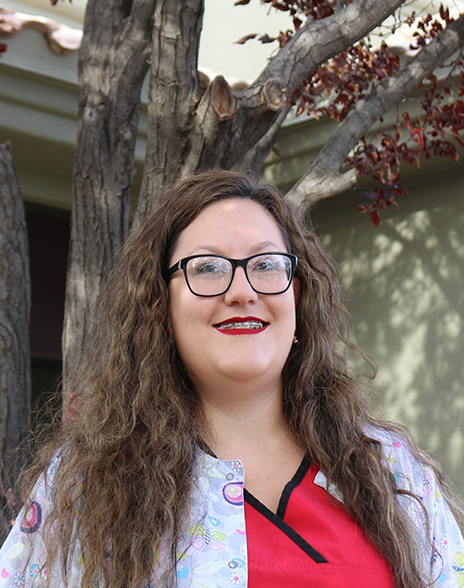 Tamara
Lead Dental Assistant
Tamara has been a member of our team since 2015. She contributes to the success of our practice by working with our friendly and knowledgeable staff to learn and teach each other new things that they can apply to the practice. What she loves the most about working here at Alamogordo Dental Group, is providing the best care for her patients and being hands-on every day. Tamara has a wonderful boyfriend of seven years and a German shepherd, Buster, who is her baby. In her free time, Tamara loves to swim, go camping and go fishing.